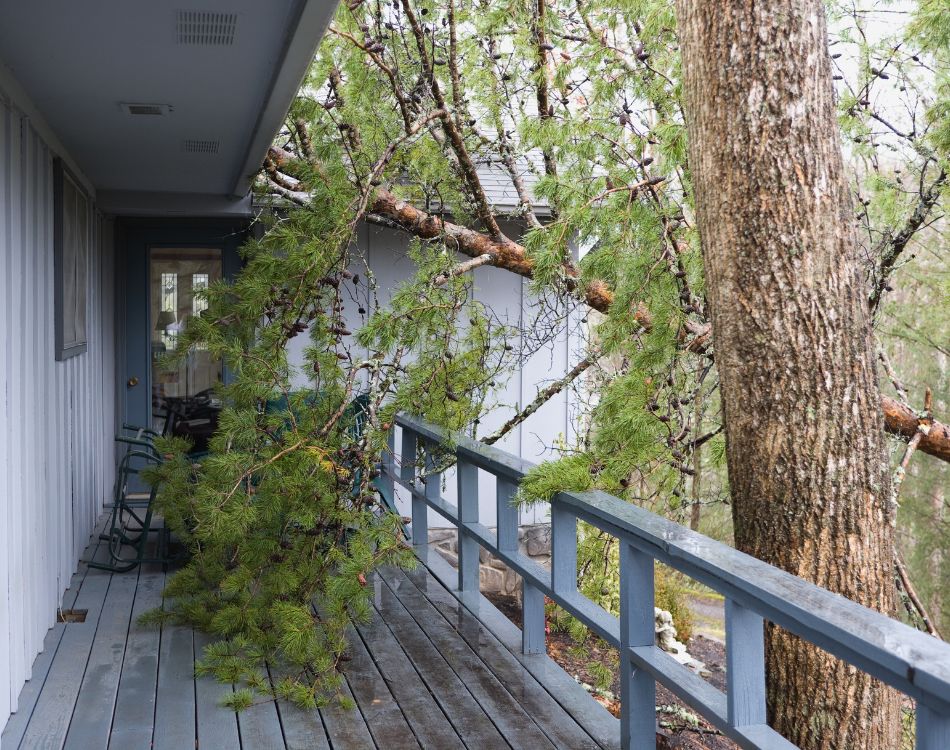 Are you facing the aftermath of a wind storm and feeling overwhelmed? We understand how stressful it can be when your home is damaged. After all, it's your safe haven; the place where you store memories and make new ones with friends and family. So if high winds have caused damage to your property, we recommend following the steps outlined in this post—you'll be well on your way to getting back on track! With our advice, you'll learn about everything from insurance coverage to potential hazards that often arise after a windstorm event. Let's get started so that you can begin reclaiming what has been lost as quickly as possible.
How wind can damage homes
Wind and hail are the most common reasons for homeowners insurance claims. This accounts for 45.5% of claims filled in 2020! This is just one reason why it is so important to be knowledgeable on what to do in case of a windstorm. High winds can cause major damage to homes and property, such as roof collapse, water infiltration, structural damage, and broken windows.
What to do if your home is damaged by wind
If your home is damaged by wind or hail, the first thing you should do is assess the damage. If there are downed power lines, immediately call your local utility company so they can come out to repair them. Contact your insurance company right away so they can assess the damage and provide you with an estimate. Be sure to document any damages with pictures or videos, even if the damage is minor.
Next, contact a qualified contractor like the emergency restoration experts at Tahoe Brothers in Northern Nevada to assess the damage. This will ensure that your home is repaired properly and as quickly as possible. If you need to make emergency repairs, we can help you contact your insurance company to navigate what is covered and how to properly proceed with repairs and documentation. If your home requires more complex repair work, such as replacing damaged siding or roofing, we can help you get estimates from professionals in order to determine which is the most appropriate solution for your situation. The experts at Tahoe Brothers will ensure that any repairs are done correctly and are committed to following all safety protocols and industry best practices.
Once the repairs are finished, you may need to file a claim with your insurance company. Make sure to have all the necessary documents and records handy before you contact your insurer. Tahoe Brothers will help you keep detailed records of any repair costs, reimbursement amounts, and receipts for materials purchased. This will help ensure that your claim is successful.
Note: If your home has been severely damaged or destroyed in a windstorm, you should contact the Federal Emergency Management Agency (FEMA). FEMA can offer assistance to those who have suffered major losses due to natural disasters.
Finally, once the repairs are complete and you've filed your insurance claim, be sure to take preventative measures to protect your home from future wind damage. This may include installing window shutters or hurricane panels, securing outdoor furniture and décor, trimming trees that could pose a risk in high winds, and more. With the right precautions, you can reduce the risk of damage from future windstorms and protect your property. By doing these steps, you'll be better prepared to handle any damage that may occur if your home is damaged in a windstorm.
Let Tahoe Brothers help fix wind damage to your home and property in Reno, Nevada!
If your home has been damaged by a windstorm, it is important to take the necessary steps to ensure that your home is repaired quickly and correctly. Health and safety should always be your number one priority after a catastrophic event. Taking the necessary steps in the aftermath of a windstorm can help you protect your home and family. If you are a Northern Nevada resident living in Reno, Carson City, or the surrounding areas, call the experts at Tahoe Brothers for your emergency restoration needs!