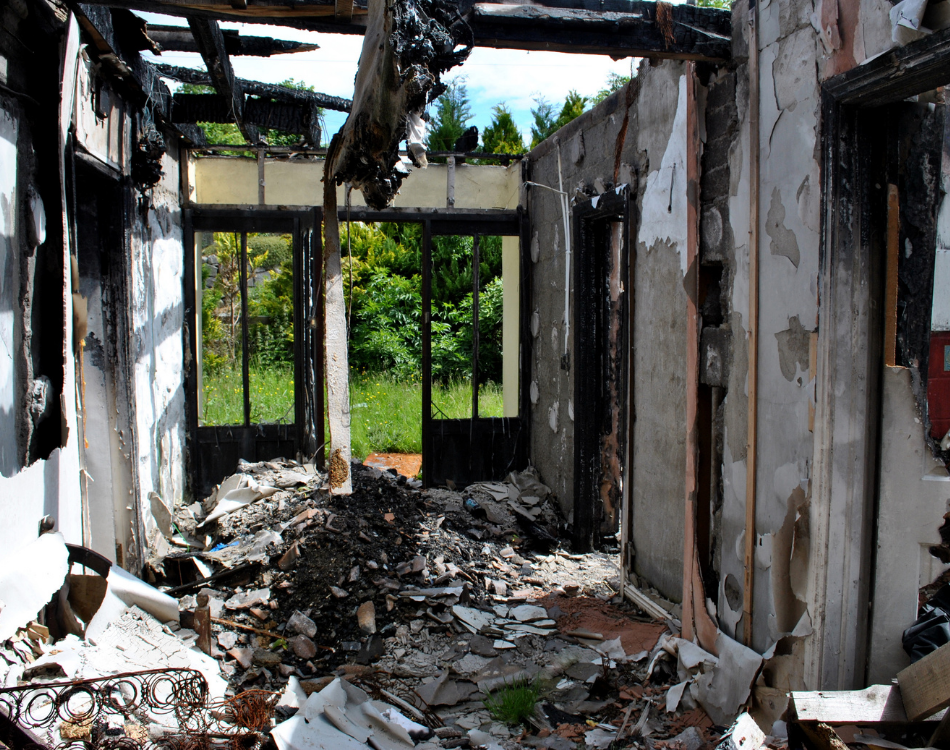 Fire damage is one of the most devastating things that can happen to a home. Not only does it cause extensive physical damage, but it also leaves emotional scars that can last for years. If you have experienced fire damage in your home, it is important to know what to do next. Keep reading to learn the basic next steps to take and our advice on what you should and should not do after a fire. We hope this information will help ease the burden of this traumatic experience
Assess The Damage
First, if the fire is not put out, call 911 to help. Make sure everyone is safe and get any necessary medical attention.
Next, assessing the damage is possibly the most important next step you need to take if your home has fire damage. To assess home damage, document everything with as much photo and video evidence as possible. This documentation will be vital when filing your insurance claim. Make sure to take note of anything that is damaged and have as much photo evidence as possible to back up your notes.
File a Claim
Now that you have followed all of the proper steps, it is time to file your claim.  The first thing you will need to do is contact your insurance company. They will likely send an adjuster out to assess the damage and provide you with an estimate for repairs.
Keep in mind that filing a claim can be a lengthy process, so be patient. The insurance company wants to make sure they are providing you with the best possible service and that all of your needs are met.
If you have any questions about the filing process or about what is covered by your policy, do not hesitate to contact your insurance company. They will be more than happy to help.
Next Steps: What You Should Do After A Fire
Do change your HVAC filters – this will help improve air quality in the home and prevent soot or other debris from moving around the home and causing more damage.

Do wash the houseplants on both sides of the leaves. This will help give your plants a better chance to survive. Plus, this removed debris that could later cause smudges on walls and carpets.

Do tape dual layers of cheesecloth over air registers. Like with changing the HVAC filters, this helps improve air quality and prevents flying debris.

Do keep your hands clean at all times to prevent damaging surfaces with dirt and debris on your own hands.
What Not To Do:
Do not turn on the ceiling fan if you find the ceiling is damp. The wiring could be compromised and this could cause more problems, including another fire.

Do not try to clean up any electrical appliances that were near the fire, heat or water. Since they could be damaged and faulty now, it is important to let a trained professional take care of this task.

Do not do any of the cleaning yourself. Better to let someone with training and experience handle it. This includes wall surfaces, carpeting or upholstery.

Do not send dry cleaning to anyone who does not have the ability to work with fire damage repairs items. Although the items may come back looking clean, they are likely to be left smelling like smoke forever.
This can be an overwhelming time. Your insurance company will have providers that can help repair the damages to your home. If you are in the Reno / Tahoe area, we would love to help. Our highly trained staff is compassionate and understands what a trying time this can be. They will help you fix repairs quickly and make the process as easy as possible. 
We hope you never have to experience a fire in your home, but if you do, we want to be here for you. We have compiled this guide to help make the process a little bit easier. Remember, always follow the proper safety precautions and contact your insurance company as soon as possible. We wish you all the best during this difficult time.
If you live in The Reno, Nevada or Lake Tahoe areas and are affected by wildfires, it's important to be aware of the damage that smoke can cause.

Though the earthquakes in the Lake Tahoe and Northern Nevada areas are generally mild, being prepared is the key to staying safe in an emergency situation.